Постинг
04.06 23:07 -
Антибългарските операции в Македония се координират от център на ГРУ в София!!!
Автор:
domograph
Категория:
Политика
Прочетен:
599
Коментари:
6
Гласове:
2
Последна промяна:
04.06 23:46
Русия активно подклажда напрежението в Македония от 2008г

Russia actively stoking discord in Macedonia since 2008, intel files say
/И без да се изненадваме на поредното национално предателство, под крилото на българските служби за сигурност,

център на ГРУ в София координира просръбските, антимакедонските, антибългарските, антинатовските и антиевропейските операциии на руските тайни служби на територията на Македония.../
Leaked documents suggest Kremlin's goal is to stop Balkan countries joining Nato and to pry them away from western influence
Russian spies and diplomats have been involved in a nearly decade-long effort to spread propaganda and provoke discord in Macedonia, according to a leak of classified documents from the country's intelligence agency.
The documents suggest that Moscow has been seeking to step up its influence all across the countries of the former Yugoslavia. The Kremlin's goal is to stop them from joining Nato and to pry them away from western influence, the reports say.
The files were obtained by the Organised Crime and Corruption Reporting Project and shared with the Guardian. They also show efforts by Serbian intelligence to support pro-Russian and anti-western nationalists in Macedonia.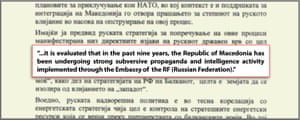 The collection of secret reports comes from Macedonian counter-intelligence.
On Wednesday, the country's Social Democrat leader, Zoran Zaev, was sworn in as prime minister, after six months of political crisis. His new centre-left coalition has the backing of two ethnic Albanian parties.
Zaev has promised to fight corruption and to introduce economic reforms. He wants Macedonia to join the EU and Nato. About a quarter of the country's population of 2 million people are ethnic Albanians.
Macedonian nationalists and supporters of the former conservative prime minister Nikola Gruevski have accused Zaev of giving too much power to the country's Albanian minority. In April pro-Gruevski crowds stormed the parliament building in the capital, Skopje. They beat up Zaev and injured others.
Russian and Serbian efforts to push Macedonia away from the west have contributed to the country's long-running political and ethnic crisis, the leaked documents suggest.

Тагове:
Сърбия,
Македония,
Москва,
МВР,
преврат,
ДАНС,
Русия,
прокуратура,
предателство,
комунисти,
заговор,
Русофили,
гру,
Радев,
коминтерн,
Цацаров,
Следващ постинг
Предишен постинг
1.
1997 -
Пък аз си мислех, че от Белград подклаждат антибългарски настроения
05.06 08:40
значи безбройните НАТОвски съветници в София не вършат нищо за добрите си заплати. Ами да ги махнат тогава.
цитирай
2.
bojil -
Страната ни бъка от руски агенти, а ...
05.06 15:01
Страната ни бъка от руски агенти,а от 73 години не е арестуван нито един- какво ни говори това? За мен това означава,че те още са на власт.
цитирай
3.
bojil -
И поздравления за важното разкр...
05.06 15:02
И поздравления за важното разкритие: всеки Българин трябва да научи че не сърбите,а руснаците правеха и още правят Българите на "македонци"- това и в училище трябва да се учи!
цитирай
Не в училище, от родилния дом трябва да се преподава РУСОФОБИЯ. И да се забрани думата Русия. Рашките се казва на майчин американски. О по-добре путиноиди.
цитирай
5.
1997 -
Добре ли сте?
06.06 22:49
krumbelosvet написа:
Не в училище, от родилния дом трябва да се преподава РУСОФОБИЯ. И да се забрани думата Русия. Рашките се казва на майчин американски. О по-добре путиноиди.
цитирай
Знаменателно! 1997не е виновен, че не е забелязал ИРОНИЯТА ми. Щото ру-фобите имат и по-дивашки изказвания.
цитирай